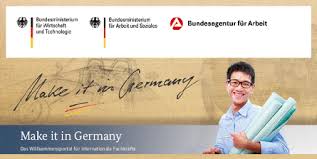 Welcome to our European Online Job-Day 'Make it in Germany- Take YOUR Chance!'
This event will take place online only, 3rd November 2016, from 09:00am – 04:00pm
Our goal is to offer European qualified jobseekers a space to get up-to-date information about Living and Working in Germany and the different German Regions in cultural and economic aspects as well as to find interesting Job-Offers; and last but not least to get in touch with German EURES-Advisers and put all the questions you've always wanted to ask about Germany.
As a jobseeker looking for opportunities in Germany, you will also find practical tools for your application, including CV, Letter of Application/Motivation and other factors for a successful participation in the job-selection-process.
In addition, you will also get useful information on taxes, social security issues and professional recognition of your qualifications.
To join us on 3rd November 2016 at German European Online Job-Day, you have to register in advance!
We are looking forward to your registration and participation in our event.
Follow this link:
https://www.europeanjobdays.eu/en/events/european-online-job-day-make-it-germany
Talk to you soon!!
P.S.: On 27th Oct. our most interesting job-vacancies selected for this event can be found completely online, but it might be worth taking a peek in advance.
We have many more interesting opportunities at hand and our trained EURES-Advisers can help you to find your perfect match.